SANDRINE AGEORGES-SKINNER
Sandrine Ageorges-Skinner has been fighting for the abolition of the death penalty since she was fifteen, in France and later in the United States. The defence of her husband, Hank Skinner, sentenced to death twenty-seven years ago in Texas for a triple murder that he has always denied, has become the cement of her commitment. With him, she fights to improve the living conditions of death row prisoners, a subject on which she has carried out a great deal of legal and medical research, in collaboration with American experts.
In the United States, the situation of the death penalty is very uneven from one state to another: 23 states are abolitionist, 15 states are retentionist, 3 states have an official moratorium, 9 states have a de facto moratorium. At the federal level, after a 17-year hiatus, executions resumed under President Donald Trump. 13 death row prisoners were executed between November 2020 and January 2021. The Biden administration announced a moratorium on federal executions on July 1, 2021. At the end of 2020, 2,485 death row prisoners were awaiting execution in the US. Since 1973, of the 8,700 people sentenced to death in the United States, 190 have been cleared.
The death penalty is traumatic and creates new victims. The sentences extend the suffering and trauma to the families of those sentenced to death, who also live in anticipation and fear of execution at every turn. To date, Hank has been on death row for over 27 years. On 24 March 2010, the US Supreme Court granted Hank an indefinite stay of execution, 25 minutes before the time of his scheduled execution. Hank's case, which has been the subject of numerous miscarriages of justice, is still under appeal in Texas, prolonging the wait that has been so painful for both him and Sandrine, and his lawyers. Most families of death row prisoners have limited contact with their loved ones. Sandrine was prevented from exchanging letters with her husband for 21 months. Hank and Sandrine were denied visitation rights from June 2008 to July 2012, and even after that, Hank was often placed in total isolation. In Texas, at least every 90 days, there is total isolation, with no release for 14 to 21 days, sometimes more. With the Covid-19 pandemic, death row inmates there experienced a year of near-permanent lockdown and received strictly no visitors.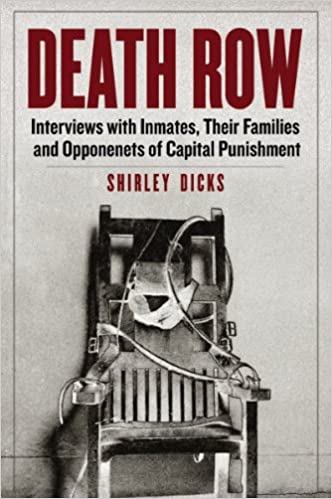 Death row
Author: Shirley Dicks
Publication Date: 1990
Edited by: McFarland

This book is largely composed of interviews--with the men on death row, with individuals fighting the death penalty, and with the families of the condemned. Several chapters also cover such topics as the execution of juveniles, mentally retarded individuals and Vietnam veterans, ineffective legal counsel and racist criminal justice systems, botched executions, and executions carried out despite the contrary wishes of prosecutors and victims' families.